Better way to add Titles to a Collection
Release date: January 11th, 2017 (Revision 1)

,

print this page
Collections in Movida bundle the titles of your choice in one editorial grouping (e.g., "The Godfather trilogy"). Great, but what if you have 1 million titles in your catalogue and find it hard to pick the titles to add to a Collection? No problem! We have just made it a lot easier to find and add titles to a Collection.
This note describes this change in full, and as usual you can contact support or your Technical Account Manager for further clarification.
To create a Collection, go to the Catalog page of Movida and and click on "Create or Import"

Name your Collection, then type in the part of the name of a title you wish to add to the Collection: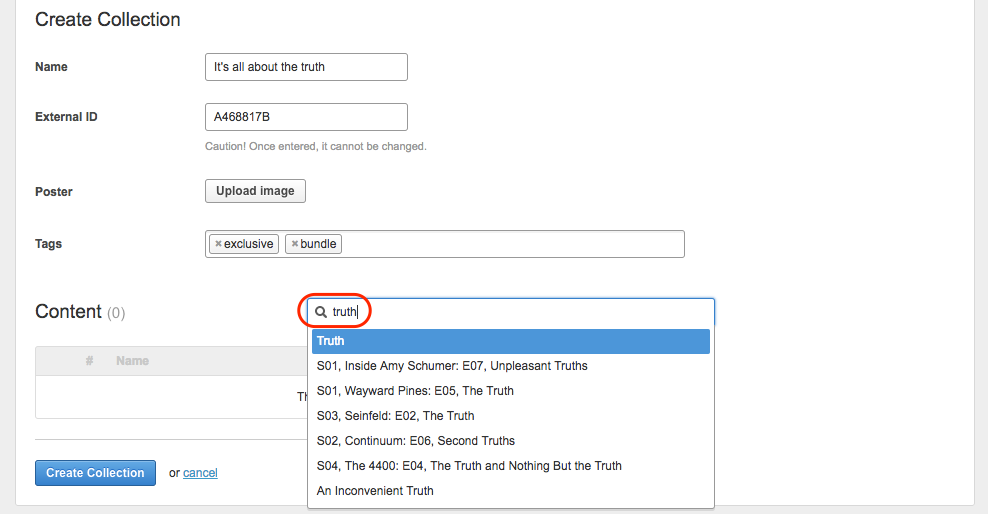 Movida returns in the dropdown below the list of existing titles in the catalog matching the text you've entered:
a perfect match comes top of the list
partial matches come below
If your catalogue is large and the search returns more than 25 results, Movida prompts you to refine your search:

Alternatively, you can now also search for titles by external IDs. External IDs are the identifiers chosen by your company to uniquely identify content. They may be your own "House ID" or "Production Number", or they may follow an industry standard such as EIDR. The use of External IDs in Movida is optional but strongly recommended! Find out more on External IDs or ask your Technical Account Manager.
Just enter the External ID of the title you want to add to your Collection, and Movida will show in the dropdown below exactly the name of the title you're looking for:

So, managing a huge catalog of titles should be no obstacle to creating great Collections for your viewers. Quite the opposite!
References
movida#4848 Add Titles to a Collection when there are many search results